If this page does not display correctly on your mobile devise, please turn the devise to a horizontal position.
WE ARE FILLING ORDERS AS QUICLY AS POSSIBLE, CURRENTLY IN 24 HOURS  BUT IF DEMAND PICKS UP, THERE MAY BE A DELAY IN FILLING ORDERS – YOU WILL RECEIVE AN EMAIL WITH THE EXPECTED AVAILABILITY DATE. 
---
Filtering face masks are  available by special order.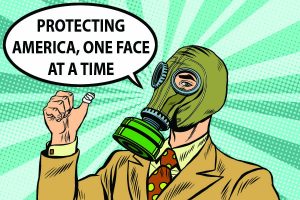 4 sizes available:
XS- ages 2 – 6 ($12 each)
S – ages 7 – 12 ($12 each)
M -teens ($15 each)
Adult ($15 each)
AND NOW available with adjustable elastic ear loops.  So you have a choice of the standard soft ties or elastic.  Please specify your choice in your email.
If you don't specify a size, Adult will be provided.
We all need to protect ourselves so, I am selling washable. filtering face masks. The price is $15 and shipping (if required – pick up is an option) These masks have 2 layers of cotton fabric and 2 layers of a polypropylene filtering fabric and are washable and reusable.  Click here for a comparison of filtering materials.  Polypropylene is the material used in surgical masks.    The masks have ties on the top and bottom with are very soft and comfortable and can be adjusted to any size face or can be made with adjustable elastic ear loops (please specify your choice with your order).
Now with softer filter layers – same protection.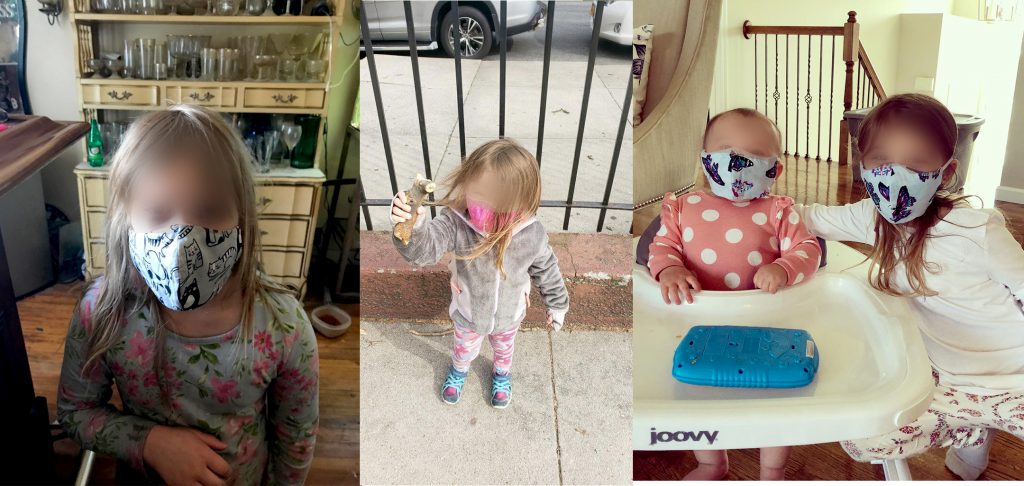 ---
When your order is complete you have these choices for delivery:
1.  Pick up at 128 Liberty Street, Newburgh, NY 12550 at no extra charge.
OR
2.  Shipping  by first class at $5 or prioriy mail at  $9 per order and ship to location.
In your email please include
Quantity and the fabric letters you want.  If you want any size other than Adult be sure to specify.  All orders without sizes specified will be filled as Adult masks.
Do you want ties or ear loops (specify for each mask ordered if not all the same)
Will you pick up or have shipped and if shipped by First Class or Priory Mail.
Your PayPal account email address if you are not picking up and paying cash or by check.
If you are interested click below to send me an email.  (if link below does not work please use the contact us page linked above – for some reasons some browsers/browser settings block the link)
Soon after I receive your email I will reply to confirm receipt of it.  Upon completion of the masks you will receive a PayPal invoice for payment or an email to arrange pick up.
Thank you and I wish everyone of you good health.
Laundering instructions:  From what I have heard the virus is weak and washing with detergent will kill it. (that's today's understanding of it anyway).  So to wash the masks, put in your regular laundry with detergent and wash in warm water.  They can be machine dried on medium or air dried.
---
Fabric Choices!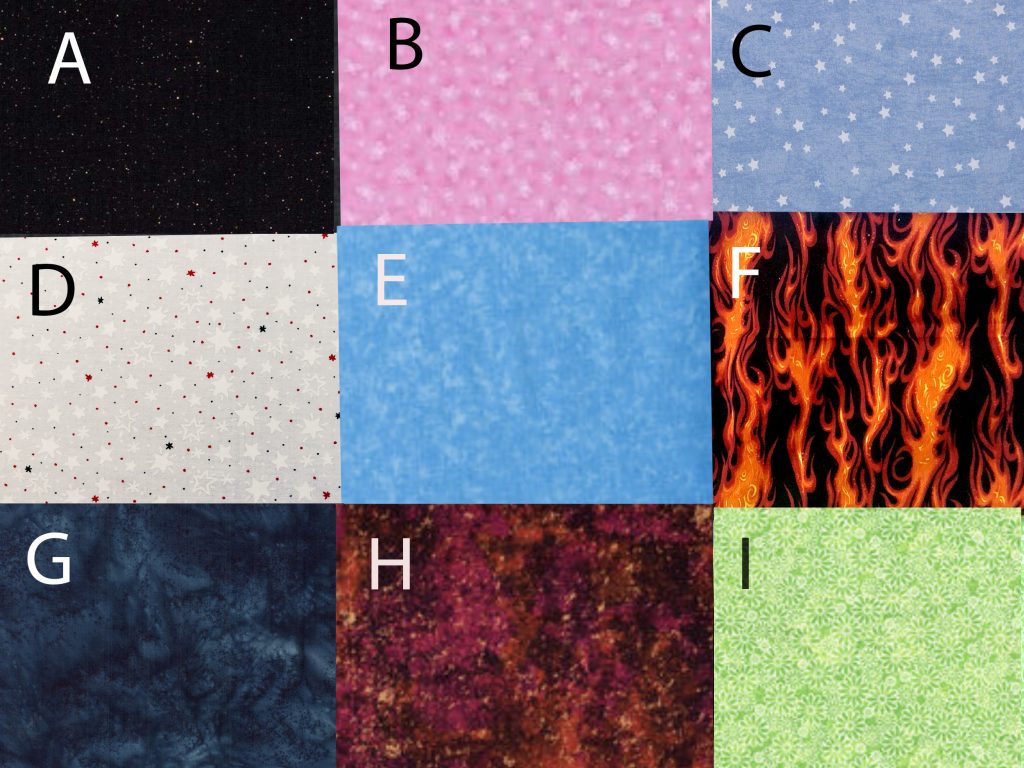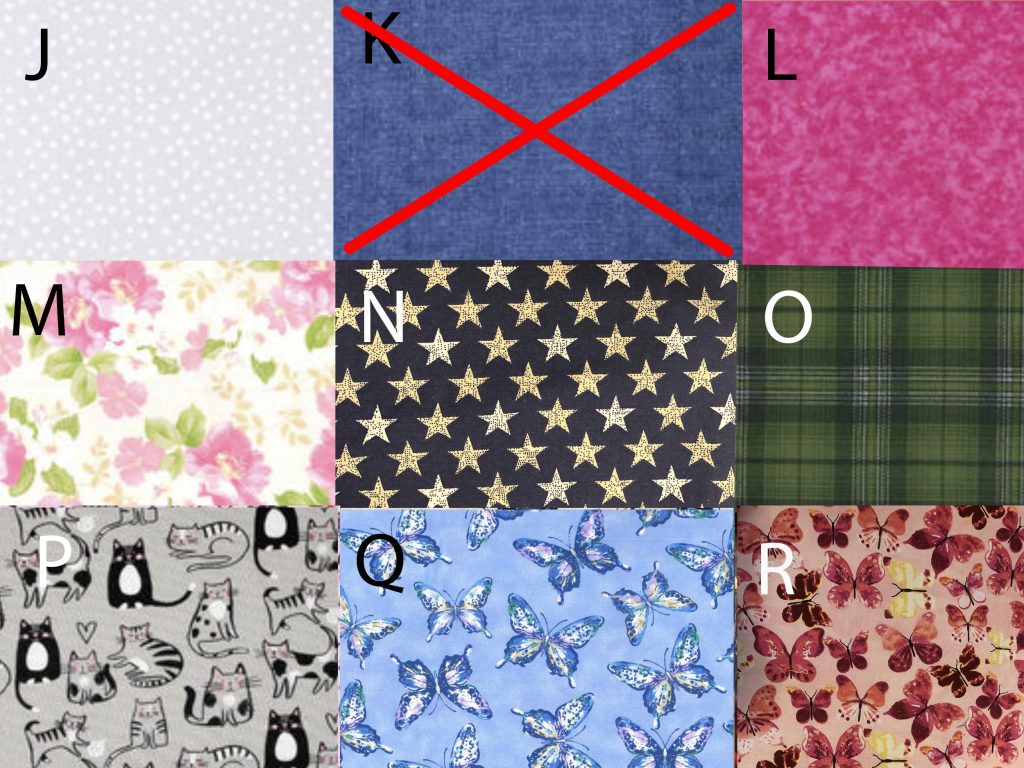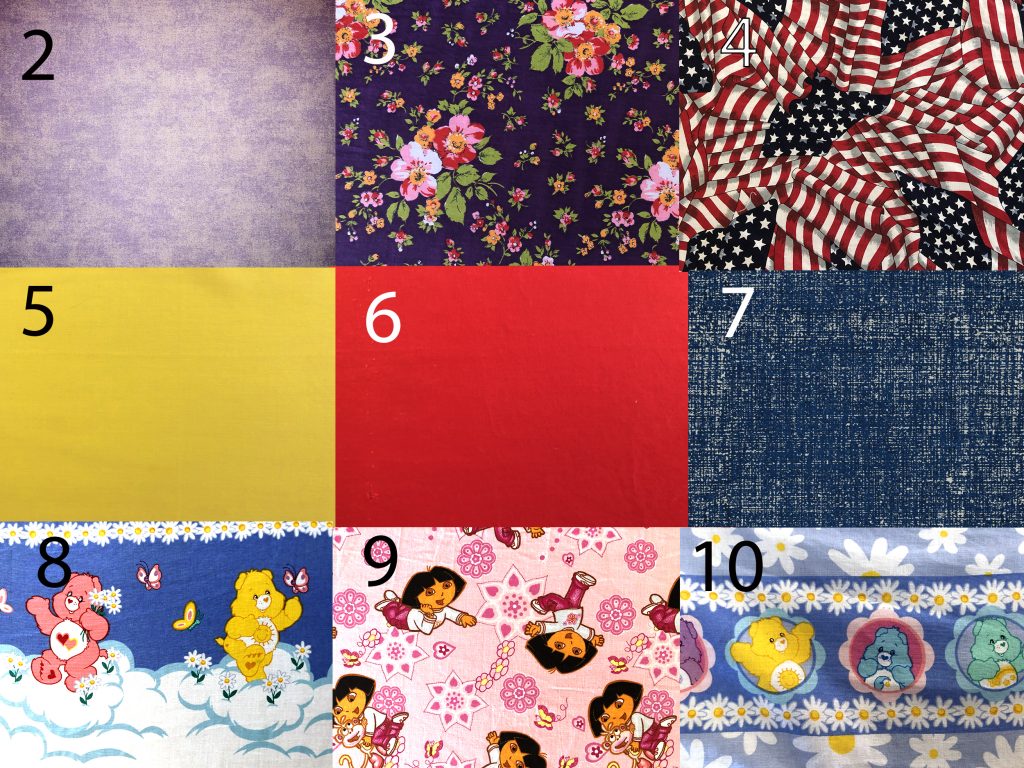 Not shown in pics:
A1. Solid Black
B1.  Solid White
From images above:
A.  Black with Metallic Gold Flecks
B. White Butterflies on Light Pink
C. White Stars on Light Blue
D. White, Red and Blue Stars on Whie
E. Mottled Turquoise
F. Flames on Black
G. Navy Tonal
H. Mottled Wine and Red with Ivory Flecks
I.  White Daisies on Green
J.  White Dots on White
K.  SOLD OUT ( see 7 for similar option)
L. Mottled Dark Pink
M. Wild Roses
N. NEW FABRIC – Stars on Blue
O. Green Plaid
P. Meow 3
Q. Butterflies on Light Blue (NEW FABRIC)
R. Red and Yellow Butterflies on  Pink
S. Black with Gray Swirls (color is black not gray)
T. Meow 2
U. Woof 2
V. Lavender Flowers
W. Water Color Flowers on Blue
X. Daisies on Yellow
Y. White and Gray Marble
Z.  White Dots on Navy
1.  White Daisys on Light Blue
2. Mottled Lavender
3. Flowers on Purple
4.  American Flag (just in time for Memorial Day!)
5.  Bright Yellow
6.  Red
7.  Basket Weave on Navy (some silver flecks)
8. Carebears 1
9. Dora
10. Carebears 2